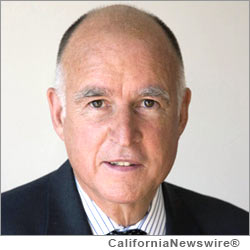 SACRAMENTO, Calif. /California Newswire/ — Today, Governor Edmund G. Brown Jr. announced that he has signed the following bills: First, AB 57 by Assemblymember Jim Beall Jr. (D-San Jose) – Metropolitan Transportation Commission. AB 1047 by Assemblymember Kevin Jeffries (R-Riverside) – Vehicles: motorcycle safety. Additional:
- AB 1443 by Assemblymember Dan Logue (R-Chino) – Home furnishings: inspections: reimbursement.
- AB 1511 by Assemblymember Steven Bradford (D-Inglewood) – Real property: disclosures: transmission pipelines.
- AB 1536 by Assemblymember Jeff Miller (R-Orange) – Vehicles: electronic wireless communications: prohibitions.
- AB 1573 by Assemblymember Julia Brownley (D-Santa Monica) – School attendance: residency requirements: foster children.
- AB 1642 by Assemblymember Richard Gordon (D-Redwood City) – County recorder: recordation of documents.
- AB 1739 by Assemblymember Michael Allen (D-Santa Rosa) – Morale, Welfare, and Recreation Fund: Veterans' Home Allied Council: operation of facilities and activities.
- AB 1812 by Assemblymember Wesley Chesbro (D-Eureka) – Alcoholic beverages: beer.
- AB 1854 by Assemblymember Julia Brownley (D-Santa Monica) – Vehicles: inflatable restraint systems.
- AB 1962 by Assemblymember Michael Allen (D-Santa Rosa) – Sonoma-Marin Area Rail Transit District.
- AB 2272 by Assemblymember Donald Wagner (R-Irvine) – Mobilehomes: injunctions.
- AB 2406 by Assemblymember Joan Buchanan (D-San Ramon) – Insurance: rates.
- AB 2476 by Committee on Veterans Affairs – Service member obligations or liabilities: rate of interest.
- AB 2483 by Assemblymember Robert Blumenfield (D-Van Nuys) – Victims of stalking: address confidentiality.
- AB 2567 by Assemblymember Wilmer Amina Carter (D-Rialto) – Sewer collection agency: schedule of fees.
- SB 1342 by Senator Bill Emmerson (R-Riverside) – Counties: recording: real estate instruments.
- SB 1450 by Senator Ronald Calderon (D-Montebello) – Mortgage guaranty insurance.
For full text of the bills, visit: leginfo.ca.gov/bilinfo.html.