SACRAMENTO /California Newswire/ — Assistant Speaker pro Tempore Isadore Hall, III (D- Compton) today urged California's shoppers to pay careful attention to the age and content ratings provided by the ESRB when purchasing computer and video games as gifts this holiday season. A recent ESA poll found that 43 percent of Americans plan to buy one or more games in 2009, and a majority will do so during the holidays. This high volume of game purchases makes it even more important for parents to make sure the games they buy are appropriate for their families.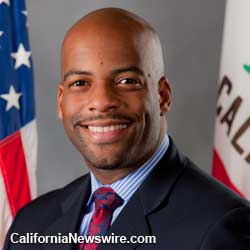 "Parents should know that when it comes to buying computer and video games, the control is in their hands," said Assemblymember Hall. "There are a wide variety of games for players of all ages but not every game is intended for children. Parents should always check the ESRB rating to make sure a game is right for their family during the holiday season and throughout the year."
ESRB ratings employ a two-part system. As seen in the illustration below, rating symbols appear on the front of virtually every game's packaging and provide an age recommendation, such as EC (Early Childhood 3+), E (Everyone 6+), E10+ (Everyone 10 and older), T (Teen 13+), M (Mature 17+) and AO (Adults Only 18+). On the back of the package, next to the rating, are content descriptors, which are short words and phrases that provide information about what's in the game that may have triggered the rating, or may be of interest or concern to parents.
"As a parent, I know it can be difficult to keep up with all the entertainment options out there for our children, but the reality is that video games are among the easiest for parents to manage," said Patricia Vance, president of the ESRB, which assigns video game ratings. "The ratings on the package give valuable guidance about content and age-appropriateness, and we now provide 'rating summaries' on our website and to your cell phone, which give an even more detailed description of content in a game that parents would want to know about. Parents should use these resources to make sure the games they're giving as gifts this year are ones they deem OK to play."
All game rating information as well as rating summaries can be found by searching for titles on the ESRB's Web site (www.esrb.org), as well as via a mobile Web site at m.esrb.org and a new, free iPhone app, both of which enable parents to look up rating summaries right from the store aisle when they are unsure as to whether a particular game is right for their child.
This year, the ESRB celebrates its 15th anniversary. Since 1994, the organization's rating system for computer and video games has been an effective mechanism for informing consumers. The latest report of the Federal Trade Commission revealed that nearly 90 percent of parents are aware of the ESRB system, and over 70 percent of parents use it regularly when deciding which games to buy. In addition, the report called the system "a useful and informative tool that parents increasingly use to help them make informed decisions about games for their children."