SAN JOSE, Calif. /California Newswire/ — In a move to help simplify the car-shopping process, eBay Motors and General Motors Company today announced the launch of a first-of-its-kind promotion that enables consumers to 'click and buy' new cars, crossovers and trucks online from participating California Chevrolet, Buick, GMC and Pontiac dealers at outstanding values. The new car shopping website – gm.ebay.com – will be available to consumers from August 11 through September 8, 2009.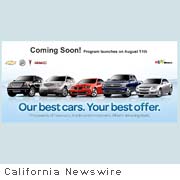 Consumers will be able to browse hundreds of California dealer online showrooms, ask questions, negotiate prices, and arrange financing and payment to purchase a new 2008, 2009 or select 2010 car, crossover or truck online. With more than 225 GM dealers in California participating, shoppers can at any given time expect to see a wide selection of up to 20,000 new GM vehicles at very competitive prices. Vehicles will be offered through eBay Motors' traditional formats such as "Buy It Now" (where shoppers agree to pay the advertised price) and eBay's innovative "Best Offer" option (where buyers indicate the price they are willing to pay and can negotiate online with the dealer for the vehicle).
The site also incorporates features that will allow consumers to compare pricing across models or participating dealerships, get tips and advice with a Buyer Checklist, and determine the value of their trade-in or whether their current vehicle may also qualify for government funded 'Cash For Clunkers' incentives.
"With 12 million individual car shoppers visiting our site every month, eBay Motors has unique insight into how people prefer to buy their cars," said Rob Chesney, vice president, eBay Motors. "Through this program, we are helping GM dealers to extend their physical showroom while at the same time delivering to our buyers the great deals and broad selection they expect from eBay."
"Together with eBay Motors, GM and our dealers are reinventing the car-buying experience for our California customers," said Mark LaNeve, GM vice president of U.S. sales. "As the dealer showroom expands from the parking lot to the laptop, this makes it easier for a customer to browse available new-car inventory, make an offer, buy it now, or send a message asking for more information from a dealer – all at the customer's convenience."
gm.ebay.com represents a benchmark in the evolution of both online commerce and automotive sales, where the Internet is becoming the new dealer showroom and playing an increasingly important role in auto selection and purchase. A recent J.D. Power & Associates study cites more than 75 percent of new-vehicle buyers in 2008 used the web during their shopping and research process, compared with 70 percent in 2007. The study also found that 2008 marked the largest year-over-year increase in online automotive shopping since 2001.*
"We are very excited about being a part of this special eBay initiative in California. We've found that serious shoppers want it to be easy and have shifted from the traditional forms of researching and purchasing vehicles to getting it all done on the internet," said Ted Nicholas, president and CEO of Three Way Chevrolet in Bakersfield. "In the not too distant past, a customer had to work too hard to find a vehicle and what might be the best offer to be found. Now, with the custom-built GM/eBay microsite, customers can get all the information they need about available inventory, compare features and price … and make a decision to buy a vehicle now or make an offer."
Complete program details including participating GM dealer inventory available through individual GM brand websites that can be found at gm.ebay.com, chevrolet.ebay.com, buick.ebay.com, gmc.ebay.com, and pontiac.ebay.com.
About eBay Motors
eBay Motors [www.ebaymotors.com], a part of eBay Inc., is the Internet's largest marketplace for buying and selling all things automotive. The site offers everyday cars for everyday drivers, as well as collector cars, motorcycles, auto parts and accessories. eBay Motors is consistently ranked the #1 automotive site on the Web by Nielsen//NetRatings (June 2009).
About eBay Inc.
Founded in 1995, eBay Inc. [NASDAQ: EBAY] connects hundreds of millions of people around the world every day, empowering them to explore new opportunities and innovate together. eBay Inc. does this by providing the Internet platforms of choice for global commerce, payments and communications. Since its inception, eBay Inc. has expanded to include some of the strongest brands in the world, including eBay, PayPal, Skype, StubHub, Shopping.com, and others. eBay Inc. is headquartered in San Jose, California.
About General Motors
General Motors Company, one of the world's largest automakers, traces its roots back to 1908. With its global headquarters in Detroit, GM employs 219,000 people in every major region of the world and does business in some 140 countries. GM and its strategic partners produce cars and trucks in 34 countries, and sell and service these vehicles through the following brands: Buick, Cadillac, Chevrolet, GMC, GM Daewoo, Holden, Opel, Vauxhall and Wuling. GM's largest national market is the United States, followed by China, Brazil, the United Kingdom, Canada, Russia and Germany. GM's OnStar subsidiary is the industry leader in vehicle safety, security and information services. General Motors Company acquired operations from General Motors Corporation on July 10, 2009, and references to prior periods in this and other press materials refer to operations of the old General Motors Corporation.
---
Copyright © 2009 California Newswire(TM). A unit of Neotrope® - all rights reserved. For Licensing Information, contact legal@californianewswire.com
Part of the NEOTROPE®.News Network. SPHERE: Related Content — CLICK HERE to See What Else is Out There!

---
About The Author / Editor: