SACRAMENTO, Calif. /California Newswire/ — Governor Arnold Schwarzenegger today launched www.MyIdea4CA.com, a Web site for Twitter users to share their ideas for moving California forward. The Twitter forum is an extension of a conversation that began in June 2009 when the Governor asked the public for new ideas on the state budget. This discussion spurred one of Twitter's most popular trending topics with its use of the #myidea4ca hashtag.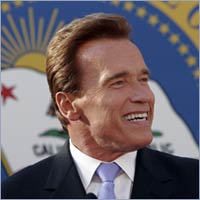 "I am personally committed to making government more accessible and responsive through social media tools like Twitter and MyIdea4CA," said Governor Schwarzenegger. "I've gotten great feedback from Californians through Twitter, and I'm sure that this new Web site will allow us to hear more ideas and help identify new ways to approach the challenging situations that face our state."
Ideas can be submitted to the Web site through a Twitter account with the hashtag #myidea4ca. MyIdea4CA.com centralizes the Twitter conversation by indexing tweets so they can be searched, sorted and ranked. It also extends the conversation by allowing users to vote and add comments. Through this new Web site, the #myidea4ca hashtag has now been expanded to include 18 categories that cover issues ranging from transportation to state parks.
---
Copyright © 2009 California Newswire(TM). A unit of Neotrope® - all rights reserved. For Licensing Information, contact legal@californianewswire.com
Part of the NEOTROPE®.News Network. SPHERE: Related Content — CLICK HERE to See What Else is Out There!

---
About The Author / Editor: