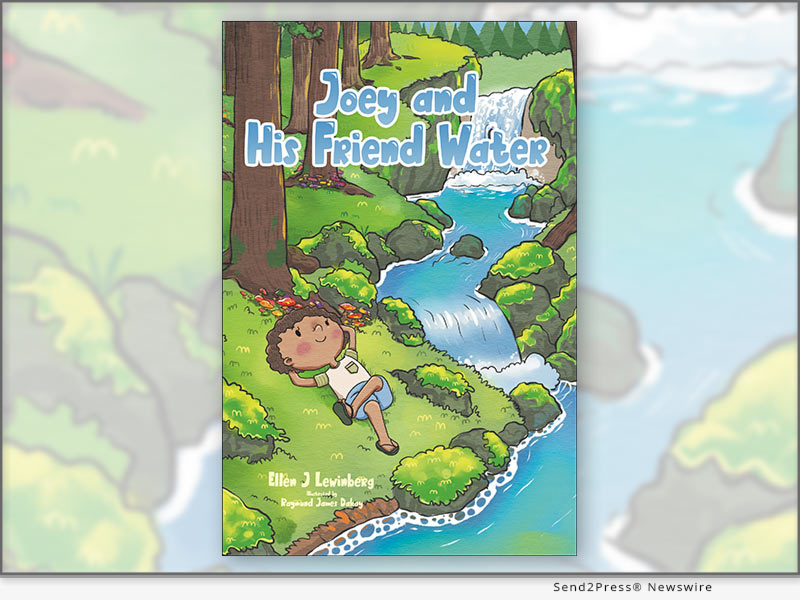 TORONTO, Ontario, Sep 14, 2023 (SEND2PRESS NEWSWIRE) -- In Ellen J. Lewinberg's current picture book, "Joey and His Friend Water" (ISBN: 978-0228881698; May 2023), Joey, the main character in the book, finds that he is able to talk to the water in a stream behind his house. Joey finds it hard to believe that he is talking to and learning from Water, and keeps checking the ideas that Water is presenting to him.

"Joey and His Friend Water" introduces children and their parents to the idea that everything around us from people, to plants, to trees, to rocks, is energy vibrating at different speeds. And, in this way, everything in the universe is connected. The importance of the water cycle, mycelium and trees in healing the earth is talked about alongside Maseru Imoto's work on water and the idea that the way in which water reacts to words and emotions has implications for our bodies and our environment. The importance of trees in our environment is stressed and also provides hope for Joey and his friends to do something to help the earth.

Author Ellen J. Lewinberg holds a master's degree in social work and is a trained child and adult psychoanalyst. She worked as a psychoanalyst for many years until a health issue introduced her to energy healing. She was excited by the potential of energy healing, so she trained and currently works as an energy healer.

Ellen realized that young children experience a connection to energy and the unseen, but forget this knowledge as they grow older. She wanted to remind both older children and adults how important it is for themselves and the world around them to remember the connections.

"I am a bioenergy healer and have always been interested in alternative healing, farming and shamanism. I am an avid reader and in recent years have come across more and more information about water and its ability to communicate and respond to our questions and emotions.

"I work with unseen energies in the environment and in people. I know that young children see and hear much that is unseen. Many of them see auras and nature spirits. I want to remind children of all ages that everything is alive and everything is connected, and just because we cannot see something with our eyes does not mean it does not exist and is not important. Imagination is also crucial to our survival.

"I feel it is very important to our survival and that of the earth to remember that the unseen exists and is as important, if not more important, than the seen objective world.

"My hope with this book is to rekindle children's imaginations and to have them understand that everything is connected. One's actions in one area have an effect on every other area. And our imaginations play a vital role in coming up with new solutions to solve our problems here on earth. Trees are crucial in our lives and play an important part in our world. They not only capture carbon, but also provide healing. The Forest Bathing movement from Japan has provided enormous amounts of evidence for this. I wanted children to understand this. They are the adults of tomorrow and will be the ones left with the mess we have made. Some of the solutions are easy if one can only implement them."

"Joey and His Friend Water," Ellen's first picture book, was released in 2023.

If you would like to find out more about Joey and His Friend Water visit: https://ellenlewinbergauthor.com/.

"Joey and His Friend Water" is now out through Tellwell Publishing (RRP $12.50) and available through Amazon, Barnes & Noble, Indigo and more.

BOOK SUMMARY:

Author: Ellen J. Lewinberg

Genre: JUVENILE FICTION

Released: May, 2022

PAPERBACK: ISBN-13: 9780228881698

EBOOK: ISBN-13: 9780228895596

Publisher: Tellwell Publishing ( https://tellwell.ca/ ).

News Source: Author Ellen J. Lewinberg
Related link: https://ellenlewinbergauthor.com/
This press release was issued on behalf of the news source, who is solely responsible for its accuracy, by Send2Press Newswire. To view the original story, visit: https://www.send2press.com/wire/joey-and-his-friend-water-a-playful-book-introducing-children-and-their-parents-to-the-idea-that-everything-around-us-is-energy-vibrating-at-different-speeds/