VAN NUYS, Calif. /California Newswire/ — In spite of the economy's effect on General and Business Aviation, Mather Aviation opened a new facility in Van Nuys, California (KVNY) on June 1, 2009, Mather Aviation announced today. This facility is Mather Aviation's first location in Southern California and brings the total number of locations to four. Mather Aviation has just leased 15,000 square feet of hangar space at the Keck-Aerolease Center.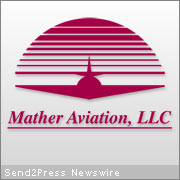 "While other aviation maintenance companies have been struggling, we at Mather have been fortunate enough to be in a position to expand into the locations that are understaffed," said Victor Cushing, Owner and President of Mather Aviation.
"With the closing of a few major repair centers, Van Nuys airport is the perfect place for our first Southern California location. The General Aviation community is incredibly strong at this airport and there are many types of aircraft without a major maintenance facility at this site."
The new Mather Aviation Van Nuys location will be capable of servicing aircraft from single engine piston to medium corporate jets. The team there will also offer mobile "Aircraft On Ground" (AOG) service to the greater Los Angeles area with its mobile maintenance truck.
"We have a lot of customers currently flying up to Northern California from Los Angeles or San Diego. The new location will save them time and money," Cushing adds.
The Van Nuys location is open and prepared to bring with it the first class experience Mather Aviation's customers have become accustomed to — including a pilot's lounge, kitchen, wireless internet access, a conference room, and secure parking.
About Mather Aviation:
Mather Aviation has been providing its General and Business Aviation customers with aircraft maintenance services for over 15 years. Based outside of Sacramento, California at Mather Airport (KMHR), Mather Aviation has over 70 employees. It currently has locations at Mather Airport (KMHR), Hayward Airport (KHWD), McClellan Airport (KMCC), and Van Nuys Airport (KVNY).
Mather Aviation boasts a wide range of authorized service center options including various models from: Cessna, Bombardier Learjet, Bombardier Challenger, Cirrus, Pilatus, Piaggio, and Hawker Beechcraft. Mather Aviation's factory trained technicians have an average of 15 years experience.
For more information visit: www.matheraviation.com
---
Copyright © 2009 California Newswire(TM). A unit of Neotrope® - all rights reserved. For Licensing Information, contact legal@californianewswire.com
Part of the NEOTROPE®.News Network. SPHERE: Related Content — CLICK HERE to See What Else is Out There!

---
About The Author / Editor: