SACRAMENTO /California Newswire/ — Assemblymember Pedro Nava (D-Santa Barbara) applauds the President and Congress for taking a historic stand and signing the Matthew Shepard and James Byrd Hate Crimes Prevention Act. "The President believes every human being is entitled to equality and the same dignity and protection under the law," said Nava. "Signing this crucial legislation will help curb violence against the LGBT community and provide needed resources and funding to local law enforcement."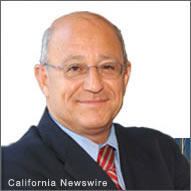 The Matthew Shepard and James Byrd Hate Crimes Prevention Act will provide immediate and necessary federal assistance to local law enforcement investigating and prosecuting hate crimes committed against lesbian, gay, bisexual and transgender (LGBT) persons. It will expand the landmark 1969 United States federal hate crimes law to include crimes motivated by a victim's real or perceived gender, sexual orientation, gender identity and disability.
"Despite existing legal protections, LGBT persons still face violence and harassment based on their orientation and gender identity," said Assemblymember Tom Ammiano (D – San Francisco). "With the passage of the Matthew Shepard/James Byrd, Jr. Hate Crimes Prevention Act , we have taken a critical step forward towards ensuring that states have the needed federal resources to prosecute hate crimes and prevent this kind of violence from happening again."
Earlier this year, Nava authored HR 16 to put the California State Assembly on record in support of the Act. HR 16 was sponsored by Equality California (EQCA).
"We are thrilled that President Obama has signed this fundamental piece of legislation, which ensures that the federal government will fulfill its obligation to protect all people of this nation, including LGBT people," said EQCA Executive Director Geoff Kors. "We applaud the President and Congress for joining California in standing up against violence based on hate. We are especially grateful to Assemblyman Pedro Nava who authored the hate crimes resolution this year, former Senator Sheila Kuehl who authored the original California Hate Crimes Law and the LGBT Caucus and legislators who supported the numerous hate crimes bills and resolutions passed in California."
"We are incredibly happy that the President has signed the Mathew Sheppard/James Byrd Jr. Hate Crimes Prevention Act which gives federal and local prosecutors the tools to stop the cycle of hate and bring justice to the victims of these heinous crimes," said Stephanie Loftin, President, LAMBDA Democratic Club of Long Beach. "We are also grateful to Assemblymember Pedro Nava for sending a strong message–House Resolution 16 to the President, that Californians support this measure."
"Any way that we can use law enforcement to keep all Americans safe is a great step in the right direction. We are pleased that President Obama has signed this Act, but we still have much work to do. Prosecuting hate crimes is crucial, keeping them from happening is even better," said Urvi Nagrani, Political Chair of the Queer Student Union at UC Santa Barbara.
The federal bill, also known as the Local Law Enforcement Hate Crimes Prevention Act, is named after Matthew Shepard, the gay University of Wyoming student who was targeted, tortured and brutally murdered by two men in 1998 because he was gay. The act is also named after James Byrd an African-American resident of Texas brutally dragged to death in 1998 in a notorious hate crime.
The Human Rights Campaign (HRC) and the Mathew Sheppard Foundation were among the leading organizations that worked on the passage of this important legislation and should be credited for getting this bill passed. The HRC is the largest national lesbian, gay, bisexual and transgender civil rights organization.
---
Copyright © 2009 California Newswire®. A unit of Neotrope® - all rights reserved. For Licensing Information, contact legal@neotrope.com Part of the NEOTROPE® News Network.