SACRAMENTO /California Newswire/ — Assemblymember Pedro Nava (D-Santa Barbara), Chair of the Assembly Banking & Finance Committee, asked California's largest financial institutions on October 23, 2009, for answers to over a dozen questions regarding their loan modification processes. Nava set a deadline of Monday, November 9, 2009 for those responses.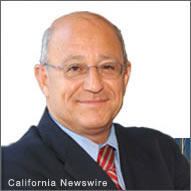 "The banks need to stop stonewalling and provide my committee with some answers. Californians deserve to know whether the bailout money taken by the banks is really helping people," said Nava. "Since the banks claim they are committed to working with families to modify loans, I want facts and figures. More than a month ago, I held a hearing in Los Angeles about the California housing crisis and the banks were a no show. We need answers and we need them now."
As Chair of the Assembly Banking and Finance Committee, Assemblymember Nava held an informational hearing on October 13, 2009, in Los Angeles, titled, "State of Foreclosure: Case for a New Direction." Nava anticipated hearing testimony from several banks but all of those invited declined to attend and report on their loan modification data. Earlier this year, the federal government implemented the Home Affordable Modification Program (HAMP) which encourages servicers to offer sustainable modifications. Data released in July found that only 16% of those eligible have received trial loan modifications. The most recent HAMP Data released in October only shows slight improvements in the number of loans modified.
To help assist homeowners with loan modifications, Assemblymember Nava introduced Assembly Bill 1588 with Assembly Speaker Karen Bass. This legislation, sponsored by Los Angeles Mayor Antonio Villaraigosa, will allow a borrower who receives a notice of default to request to participate in a loan modification workout program with their lender for the purpose of arriving at a sustainable loan modification. If the borrower is not able to receive a modification it would allow the borrower and lender to work out a reasonable transition plan. AB 1588 builds upon numerous efforts in other states to establish a program that will ensure that borrowers and lenders work together to keep people in their homes.
Assemblymember Nava will continue to hold informational hearings across the state and continue to probe what assistance banks are providing their borrowers. The next informational hearing is scheduled for Thursday, November 12, 2009, at the State Capitol at 10 a.m. Again, Assemblymember Nava has invited several financial institutions to testify regarding their loan modification progress and receive their responses to the questions addressed in his letter.
"Hopefully the banks will seize this opportunity to inform the Committee and public about their loan modification programs and provide the requested information. This crisis has devastated thousands of California families. It's obviously time to take a new approach to help families remain in their homes and neighborhoods," said Nava.
The text of the letter follows.
October 23, 2009
On October 13, 2009, as Chair, I conducted an informational hearing of the Assembly Banking & Finance Committee to examine current efforts aimed at preventing foreclosures. This hearing gave the committee expert information on the scope of the current problems and the potential for establishing a monitored workout program for borrowers in foreclosure in order to expedite negotiations and promote face-to face contact between borrowers and lenders.
The largest financial institutions were invited to this hearing but were unable to attend, thereby not allowing the committee to receive a full picture of the market conditions. I am therefore writing now to request additional information that will help the committee evaluate the foreclosure crisis from your perspective.
Prior to the Assembly Committee on Banking and Finance convening additional informational hearings on this issue, I am asking that your institution answer the following questions:
How does your institution define a loan modification? Please be as specific as possible.
What exactly is your loan modification process once a borrower has asked for a loan modification?
Once the financial institution receives all the paperwork, how long does it take for a long modification to be complete?
In addition to the Home Affordable Modification Program (HAMP), does your institution use any other modification programs?
If your institution does have another program in places besides HAMP, how do you determine which program to use? Do you pursue the loan modification under all the programs and then base your decision on what is in the best interest of the borrower?
Of mortgage loans in portfolio or securitized, how many are eligible for modification under HAMP
During the loan modification process, what information is disclosed to the borrower?
What is your predicted modification pace for each quarter of 2010? Please provide data.
What are the top factors that delay a loan modification offer? Please provide data.
What are the top reasons a loan modification is denied? Please provide data.
Do loan modifications, either in the trial period, or once finalized, have any negative impact on a borrower's credit score? What do you report to the credit agencies if the borrower is not in default?
What happens when the trial period of a loan modification has ended?
How do you determine net present value relating to a loan modification?
Generally, how often are requests for loan modifications initiated by counseling agencies on behalf of a borrower? Directly from the borrower? Please provide data.
What has been the formal position of your institution regarding foreclosure mediation programs in other states?
Please respond to the committee no later than Monday, November 9, 2009 so that this information may be part of the committee's background materials.
Sincerely,
Pedro Nava
Chair, Assembly Banking & Finance Committee.