LOS ANGELES /California Newswire/ — Governor Arnold Schwarzenegger today signed Assembly Bill X3 81 by Assemblymember Isadore Hall (D-Compton) to speed up the construction of the long-awaited, environmentally-reviewed Los Angeles stadium complex. Specifically, this bill exempts activities associated with the development and operation of the stadium complex in the city of Industry from the California Environmental Quality Act – essentially cutting unnecessary red tape to get shovels in the ground, people to work and an NFL team in Los Angeles.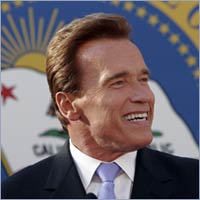 "This is the best kind of action state government can create – action that cuts red tape, generates jobs, is environmentally friendly and brings a continued economic boost to California," said Governor Schwarzenegger. "This legislation allows us to move forward with the construction of the nation's greenest football stadium and create thousands of jobs."
Construction of the three million square foot stadium complex is estimated to create over 18,000 jobs and pump more than $760 million into the local economy every year – all without using any taxpayer dollars. The stadium complex will provide more than just a stadium; it will also include an orthopedic hospital, a movie and live performance theater and office and retail space.
In addition to providing the Los Angeles area with a much-needed economic boost, this 75,000-seat stadium would be the most energy efficient and environmentally sustainable NFL stadium in the country. The nation's first Leadership in Energy and Environmental Design (LEED)-certified stadium will power much of its operations using solar panels, landscape its grounds using recycled water and be built into a hillside – reducing the amount of steel and concrete used.
This stadium complex has undergone extensive environmental review and public comment. In 2004, proponents successfully completed and certified an Environmental Impact Report (EIR) for a 4.8 million square foot project in the area. In 2008, a supplemental EIR was performed for the downsized and current proposal that includes the NFL stadium. In each case, the developers worked with concerned parties to resolve any issues and move forward. This legislation recognizes the thorough environmental review already done and clears the way for construction and job creation to begin.
---
Copyright © 2009 California Newswire®. A unit of Neotrope® - all rights reserved. For Licensing Information, contact legal@neotrope.com Part of the NEOTROPE® News Network.