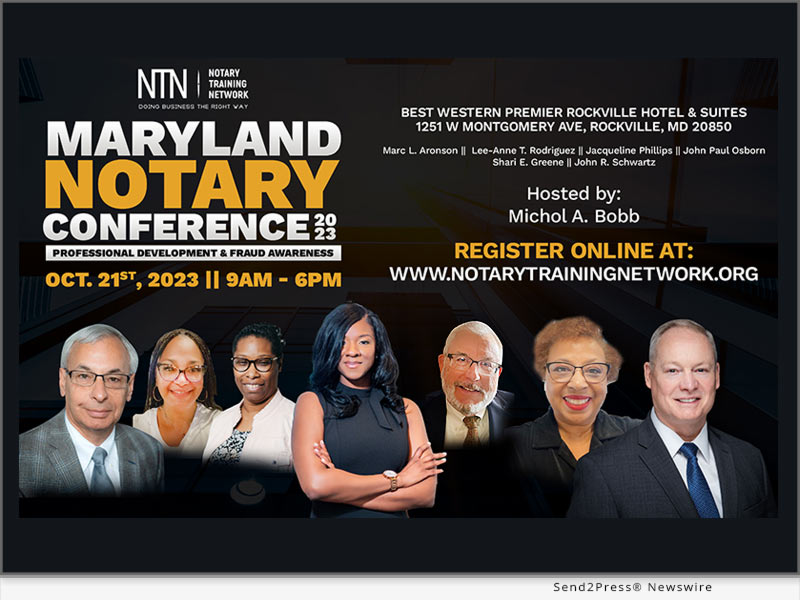 BALTIMORE, Md., Jul 06, 2023 (SEND2PRESS NEWSWIRE) -- The Notary Training Network is pleased to announce the highly anticipated Maryland Notary Training Conference, dedicated to combating document fraud, forgery, and identity theft. The conference will take place on October 21, 2023 at the Best Western Premier Rockville Hotel & Suites in Rockville, Maryland. This conference is open to notaries in all states.

In today's increasingly interconnected world, the threat of document fraud, forgery, and identity theft has become a pervasive concern. Notaries, who play a crucial role in verifying the authenticity of signatures on legal documents to help deter fraud, are at the forefront of combating these criminal activities with minimal training on how to identify fraudulent red flags. To equip notaries with the necessary knowledge and skills to prevent such fraudulent practices, Notary Training Network aims to bring together industry experts, professionals, and enthusiasts for a day of comprehensive training and education at this notary training conference.

The conference will feature a lineup of distinguished speakers, including renowned experts in the fields of document authentication, forgery detection, and identity verification.

Attendees will have the opportunity to gain valuable insights from these experts through an engaging keynote speech and interactive discussions. Participants will learn about the latest industry best practices, cutting-edge technologies, and emerging trends in preventing document fraud, forgery, and identity theft.

KEY TOPICS THAT WILL BE COVERED DURING THE CONFERENCE INCLUDE:

1 - Recognizing counterfeit documents and spotting forged signatures

2 - Implementing advanced security measures to safeguard sensitive information

3 - Conducting thorough identity verification processes to prevent impersonation

4 - Leveraging technology for document authentication and fraud prevention

5 - Staying up-to-date with legal regulations and compliance requirements

Notaries attending the conference will have the opportunity to network with industry peers, exchange valuable insights, and establish professional connections. The event will serve as a platform for collaboration and knowledge sharing, fostering a stronger community of notaries committed to combating document fraud and protecting the integrity of legal documents.

Whether you are a seasoned notary public, an aspiring professional, or simply interested in understanding the vital role notaries play in preventing document fraud, forgery, and identity theft, the Maryland Notary Conference welcomes all enthusiasts.

Limited seats are available, so early registration is encouraged to ensure participation in this highly anticipated event that was curated to teach you:

1 - How to protect your notary commission, so that you don't lose it

2 - What not to do as a notary to avoid being charged criminally due to misconduct

3 - How proper record keeping in a logbook can save you from prosecution if you get called into legal proceedings from a notarization that is questioned in court

4 - How notarization for someone that is a victim of identity theft can be impacted if you don't verify identity correctly

5 - How expert testimony is important when you have to talk about signature forgery in writing and altered document fraud in a special keynote from an expert Document Examiner and Forensic Analyst

6 - How to recognize red flags in today's digital age with technological advancements in notarization

REGISTRATION:

Registration for the conference is now open, and interested individuals can visit the official conference website at: https://www.notarytrainingnetwork.org/ to secure your spot.

For sponsorship opportunities, media inquiries, or any further information, please contact: Michol A. Bobb at info@notarytrainingnetwork.org.

About Notary Training Network:

Notary Training Network is a leading authority dedicated to promoting excellence, professionalism, and integrity within the notary profession. Committed to providing resources and educational opportunities to notaries, they strive to elevate industry standards and protect the public from fraudulent activities. Through events, training programs, and advocacy efforts, Notary Training Network is at the forefront of driving positive change within the notary community.

News Source: Notary Training Network
Related link: https://www.notarytrainingnetwork.org/
This press release was issued on behalf of the news source, who is solely responsible for its accuracy, by Send2Press Newswire. To view the original story, visit: https://www.send2press.com/wire/join-the-notary-training-network-as-the-host-of-the-maryland-notary-conference-on-preventing-document-fraud-forgery-and-identity-theft/