PASADENA /California Newswire/ -– The Pasadena Tournament of Roses named Natalie Anne Innocenzi as the 92nd Rose Queen today. This announcement concludes a month-long process that began with more than 1,100 Pasadena-area young women who participated in the Tournament of Roses Royal Court tryouts. Queen Natalie was selected from the recently appointed seven-member Royal Court. The Rose Queen and Royal Court will reign over the 2010 New Year's Day festivities, culminating with the 121st Rose Parade®, themed 2010: A Cut Above the Rest, and the 96th Rose Bowl Game® presented by Citi.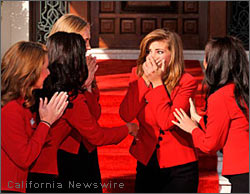 Queen Natalie and the six Rose Princesses were selected based upon a combination of qualities, including public speaking ability, poise, academic achievement and community involvement.
"2010 Rose Queen Natalie Innocenzi and our six princesses are perfect ambassadors for the Tournament of Roses, and the city of Pasadena. They are talented, graceful and stellar examples of what it is to be A Cut Above the Rest," said Tournament of Roses Acting President Jeff Throop. "We are delighted to have Queen Natalie lead our court and reign over the 121st Rose Parade and 96th Rose Bowl Game."
Rose Queen Natalie Anne Innocenzi, 16, is an Arcadia resident and a senior at Flintridge Sacred Heart Academy. She is captain of the junior varsity tennis team at her school and participates in track and field. She is president of the Amnesty International Club and as a member of the board for the Alzheimer's Foundation of America Teens, Natalie started an Alzheimer's Awareness week at her school. She has lived in the Pasadena-area her entire life and plans to stay in California for college where she'll study occupational or physical therapy with an emphasis in gerontology. Her parents are Robert and Jeannette Innocenzi. She has one sibling, Kevin, 14.
As an official ambassador of the Tournament of Roses, Queen Natalie will participate in approximately 150 community and media functions along with Rose Princesses Katherine Margarita Hernández (#352), 18, Flintridge Sacred Heart Academy; June Ko (#427), 17, Arcadia High School; Lauren Samantha Rogers (#218), 17, Blair High School; Kinsey Elizabeth Stuart (#469), 18, Pasadena City College; Ashley Renee Thaxton (#92), 17, John Marshall Fundamental High School; Michelle Louise Van Wyk (#341), 17, La Canada High School.
Queen Natalie will officially receive her crown from Tournament of Roses Acting President Jeff Throop at the Coronation Ceremony on November 4 at the Pasadena Convention Center.
About the Pasadena Tournament of Roses:
The Pasadena Tournament of Roses is a volunteer organization that annually hosts the Rose Parade® and Rose Bowl Game® presented by Citi. The 121st Rose Parade themed 2010: A Cut Above the Rest will take place Friday, Jan. 1, 2010, at 8 a.m. (PST) featuring majestic floral floats, high-stepping equestrian units and spirited marching bands. Following the Rose Parade, the 96th Rose Bowl Game presented by Citi will kick off at 2:10 p.m. and feature an exciting match-up between two of the top teams in the country.
On January 7, the Tournament of Roses will also host the No. 1 and No. 2 BCS-ranked teams in the 2010 Citi BCS National Championship Game. The Game will kick off at 5 p.m. (PST) from the historic Rose Bowl Stadium. For additional information on the Tournament of Roses please visit the official website at www.tournamentofroses.com.
---
Copyright © 2009 California Newswire®. A unit of Neotrope® - all rights reserved. For Licensing Information, contact legal@neotrope.com Part of the NEOTROPE® News Network.