CALABASAS, Calif. /California Newswire/ — With so many people out of work, each day, thousands of new applicants file for Social Security Disability Insurance (SSDI). In response to this, FDP Inc. has assembled a directory website to help people with disabilities to work through the SSDI maze. With average waiting times of one to three years for SSDI, many disabled people try to minimize their disabilities and take any job they can find. But, with fewer jobs available, this option is also limited.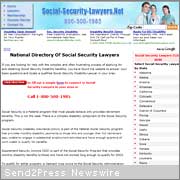 "Soon, many disabled persons will be in serious danger," social security attorney, Sandra Serra, says. "Many disabled people are turned out to live on the streets. And, when the time finally comes to move their case along, they have no mailing address or telephone."
Studies have proven that the help of a good attorney can cut the waiting time for SSDI in half. And, the need for speed is driving more and more disabled persons to seek legal assistance. However, finding competent legal counsel can be a chore.
The Internet is the place to turn. But, where does one begin? There are more than one million pages related to SSDI on the Web.
That's where Social-Security-Lawyers.net can help. The site offers one of the largest directories of social security lawyers in the nation. More than 1,000 people visit the site each day.
Social-Security-Lawyers.net has grown in popularity because the assistance is comprehensive. They help with everything from start to finish. They also know how to navigate through the paperwork and documentation is key when applying for SSDI benefits. If not done properly, people will be denied.
"We are happy to help these people," David Sheehan, an attorney and president of Social-Security-Lawyers, says. "We hear the most horrific stories about desperate and disabled people who can barely feed their children. To assist these people is not only an honor, but is also rewarding on a very personal level."
About FDP Inc.
Since 2000, FDP Inc., an Internet firm, has been developing industry-specific, directory websites. The company has invested more than one million dollars in research and development and has constructed a platform for building fully functional and sophisticated websites.
---
Copyright © 2009 California Newswire(TM). A unit of Neotrope® - all rights reserved. For Licensing Information, contact legal@californianewswire.com
Part of the NEOTROPE®.News Network. SPHERE: Related Content — CLICK HERE to See What Else is Out There!

---
About The Author / Editor: