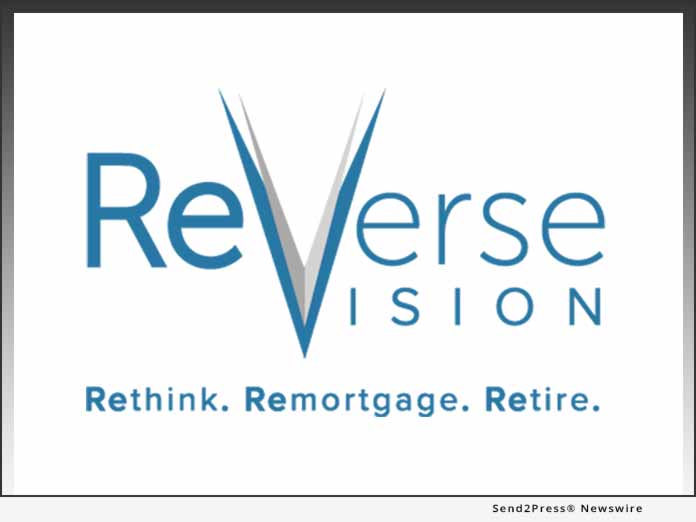 SAN DIEGO, Calif., Oct 15, 2018 (SEND2PRESS NEWSWIRE) -- ReverseVision, the leading provider of technology and training for the Home Equity Conversion Mortgage (HECM) industry, today announced it is partnering with leading mortgage industry advisory firm STRATMOR Group to develop the first-ever HECM borrower satisfaction benchmark as part of STRATMOR's MortgageSAT Borrower Satisfaction Program.

Many of the borrower satisfaction measures that apply to traditional loans also apply to HECM loans, but there are unique elements to HECM origination that factor into the borrower experience as well, such as the requirement that HECM borrowers complete reverse mortgage counseling with an independent third party. To ensure its MortgageSAT program accurately considers these unique HECM processes, STRATMOR Group will build a tailored survey with input from ReverseVision.

"Bringing MortgageSAT to reverse lenders is exciting for a number of reasons," said STRATMOR MortgageSAT Program Director Mike Seminari. "As the dominant provider of reverse mortgage technology, ReverseVision is uniquely positioned to engage a large sample of lender participants, making this a true benchmark lenders can use to assess their performance against a meaningful peer dataset."

According to ReverseVision President and CEO John Button, reverse mortgages still suffer from a poor reputation despite the fact that the causes are long resolved with a HECM program that is safer than ever. "We expect the MortgageSAT survey results, including borrower comments, will shed light on the fact that reverse borrowers are thoughtful people who are planning for their financial futures," said Button. "The vast majority of them are very happy with both the process and the loan product."

With the MortgageSAT program, ReverseVision customers will be able to survey every borrower within 24 hours of loan closing. Direct, instant borrower feedback, along with deep insights into the loan process and the people involved, will enable lenders to pinpoint sources of borrower dissatisfaction and quickly take corrective action. MortgageSAT will provide individual scores for each participant in the HECM process (e.g., counselor, loan officer or broker, processor, underwriter and closer) and measure the borrower's perception of the entire experience with analysis by region, branch and individual employee.

"We're eager to give reverse lenders the ability to understand what's working and what's not working in their origination process," said Seminari. "MortgageSAT's value for lenders includes its ability to deliver actionable insights for mortgage leaders and coaching moments for employees."

About STRATMOR Group:

STRATMOR Group is a leading mortgage industry advisory firm that provides a range of programs and services designed to counsel lender CEOs and senior executives. STRATMOR serves more than 250 companies annually, providing strategies that increase growth and improve profitability in sales, marketing, technology, operations and mergers and acquisitions using comprehensive, propriety data and key insights gained through extensive experience in the mortgage industry. The company is well known for its financial models and its collaboration with the Mortgage Bankers Association in the PGR: MBA and STRATMOR Peer Group Roundtables program. Find out more about STRATMOR on its website at https://www.stratmorgroup.com/.

About ReverseVision:

ReverseVision, Inc. is the leading provider of technology and training for Home Equity Conversion Mortgage (HECM) origination. With nearly 10,000 active users, ReverseVision technology is used by 10 of the top-ten reverse mortgage lenders and supports more HECM transactions than all other systems combined. The company's comprehensive product suite also includes HECM sales and education tools and a dedicated professional services team. ReverseVision partners with some of the finest and fastest-growing banks, credit unions and lending organizations in the United States to provide its HECM technology to brokers, correspondents, lenders and investors.

A three-time HousingWire TECH100(TM) company, ReverseVision has also been recognized in Deloitte's Technology Fast 500(TM) listing. ReverseVision's annual user conference, the only event of its kind in the industry, brings together more than 200 lenders, vendors and educators each year to advance HECM lending. The company continues to build on its technology's pioneering capabilities with frequent enhancements aimed at boosting users' HECM volume, workflow efficiency and data analysis capabilities. For more information, visit https://www.reversevision.com.

Twitter: @ReverseVision @STRATMORGroup #HECM #MortgageSAT
News Source: ReverseVision Inc.
Related link: https://www.reversevision.com/
This press release was issued on behalf of the news source, who is solely responsible for its accuracy, by Send2Press Newswire. To view the original story, visit: https://www.send2press.com/wire/reversevision-and-stratmor-group-partner-to-integrate-first-ever-hecm-borrower-satisfaction-benchmark-into-mortgagesat/