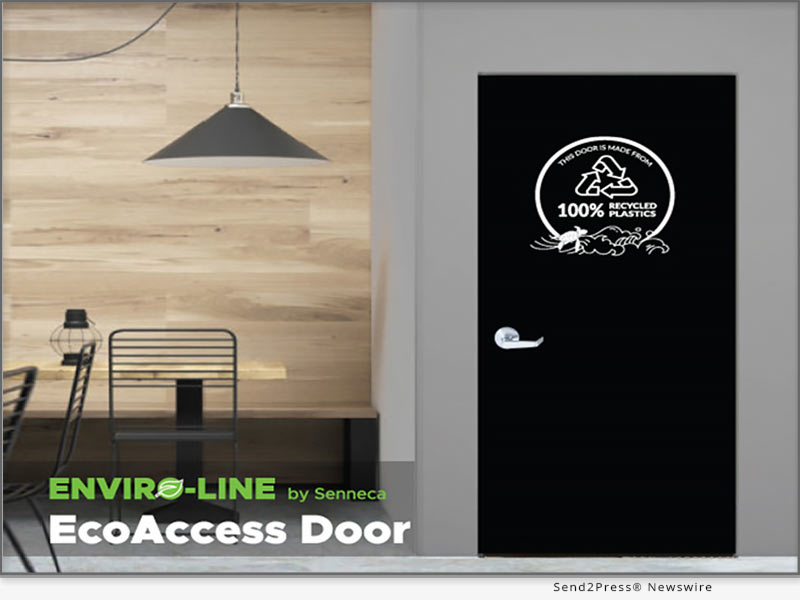 CINCINNATI, Ohio, Sep 07, 2023 (SEND2PRESS NEWSWIRE) -- Senneca and their family of brands is committed to continuous improvement to minimize its environmental footprint and inspire others to do the same. To reduce ecological impact, action has been taken to decrease waste, reuse materials and recycle where possible. Chase Doors is proud to announce the launch of their first environmentally sustainable product, the EcoAccess door.

The new EcoAccess door combines reliability, durability, and sustainability in a single door panel. Designed in alignment with their customers' commitment to specify and use environmentally responsible products, the EcoAccess single-acting door features a door panel constructed of 100% recycled HDPE material.

Senneca understands the importance of using materials that are both cost-effective and environmentally friendly. HDPE is an ideal material for this purpose, it is tough and corrosion-resistant and easily recyclable. Additionally, HDPE has excellent impact strength and can easily withstand pressure and harsh scenarios, keeping your door at peak performance. Constructed by the trusted leader in door manufacturing, this door has a unique 3 panel core for added durability, while remaining lightweight. Maintenance is minimal, it won't scratch or dent, so your door stays looking its best.

The Chase EcoAccess door qualifies for projects requiring a Buy American Act product specification. The door panel materials are proudly sourced from US manufacturers, and the doors are produced at their plant in the United States.

"As the market leader in specialty doors, Senneca is here to promote your sustainability initiatives with the launch of our Chase EcoAccess door that features a 100% recycled material door panel. We are excited about this innovative solution that provides a long-lasting durable door while removing environmental waste," said Hal Shapiro, Senior Vice President, C&I Sales and Marketing.

Senneca's efforts include the manufacturing and sourcing of goods and services that meet the business needs of their customers, while also being environmentally friendly, socially responsible, and ethically sourced. Over 2,700 of their doors are listed by the Department of Energy and meet design, energy savings and performance requirements that lessen the carbon footprint on the environment.

Senneca's goal is to improve environmental efficiency and responsibility by enacting measurable steps to a greener future for the planet and future generations by continuously improving products and processes in the pursuit of social, economic, and environmental well-being.

To learn more about the Chase EcoAccess door, please visit https://www.chasedoors.com/products/ecoaccess for more information.

Chase Doors is part of the Senneca family of brands. Senneca is a designer and manufacturer of a broad portfolio of specialty doors for commercial and industrial applications and enclosures for mission critical environments. Their brands are some of the most widely recognized names in the industry and include Chase Doors, ColdGuard, Curtron, Door Engineering, Eliason, Hercules, HMF Express, Saino, Simplex, Subzero and Thermoseal. Senneca is committed to exceeding customers' expectations by supplying doors that offer safety and environmental separation for their customers' most important assets...people, products, capital investments and processes.

Learn more about Senneca and their family of brands at https://www.senneca.com/.
News Source: Chase Doors
Related link: https://www.chasedoors.com/
This press release was issued on behalf of the news source, who is solely responsible for its accuracy, by Send2Press Newswire. To view the original story, visit: https://www.send2press.com/wire/sennecas-market-leading-brand-chase-doors-launches-their-first-environmentally-sustainable-ecoaccess-door/