FREMONT, Calif. /California Newswire/ — TeamF1, Inc. (www.TeamF1.com), the high-performance embedded networking and security software company, and Cavium Networks (NASDAQ: CAVM), a leading provider of highly integrated semiconductor products, today announced the immediate availability of TeamF1's software running on the Cavium ECONA family of ARM processors. The integrated solution enables networking ODMs and OEMs to accelerate the development of residential and business security VPN and firewall gateways, routers and wireless LAN access points.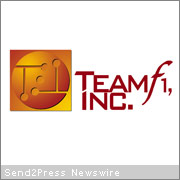 TeamF1's Secure Gateway Solution (SGS) and Managed Access Point Solution (MAPS) are the most comprehensive SMB-grade software solutions to support Cavium Networks' ECONA family of ARM-based SoC processors. The optimized joint solution leverages ECONA's built-in hardware acceleration for maximum CPU offload of key functions enabling networking ODMs and OEMs to deliver high-performance and feature-rich wired and wireless devices to the market in record time.
The Cavium Networks ECONA family of ARM processors delivers a wide variety of highly integrated embedded SoC options at industry leading BOM cost and performance per watt. These processors include an ARM(tm) core processor with innovative hardware offload engines to provide up to Gigabit rate processing in the 0.5-1.5W power range. Additionally, optional advanced features such as L7 content inspection hardware are available to provide value added product features for the network connected home and office.
"Speedy time-to-market without sacrificing quality, performance and cost is an important consideration for our mutual customers," said Mukesh Lulla, TeamF1 president. "As a member of the Cavium PACE ecosystem, TeamF1 has worked closely with Cavium Networks to enable this in a ready-to-use manner by proactively optimizing the TeamF1 Platform for the ECONA processor family and making it available to our customers in a production-ready form."
"Cavium Networks and TeamF1 have successfully won and have been deployed together in multiple designs on the OCTEON MIPS64 processor family," said Sandeep Vij, VP and GM, Broadband and Consumer Division, Cavium Networks. "We look forward to working with TeamF1 to offer a comprehensive, market-ready connected home and office solution on our ECONA family of ARM processors."
TeamF1's software platform combines a rich set of field-proven components with an array of customizable options to provide OEMs/ODMs with increased product flexibility and usability. Devices built around TeamF1's SGS and MAPS offer end-customers advanced networking security, support for the latest 802.11 wireless standards and easy-to-use device management features.
About TeamF1
TeamF1, Inc. a privately held corporation headquartered in Fremont, CA, is a leader in high performance embedded networking and security software. TeamF1's products enable secure management of telecom/datacom and industrial equipment, and provide the infrastructure components needed for switching and wireless products. For more information visit the company's website at www.TeamF1.com or contact TeamF1 Public Relations at 510/505-9931.
About Cavium Networks
Cavium Networks is a leading provider of highly integrated semiconductor products that enable intelligent processing in networking, communications, storage and security applications. Cavium Networks offers a broad portfolio of integrated, software-compatible processors ranging in performance from 10 Mbps to 20 Gbps that enable secure, intelligent functionality in enterprise, data-center, broadband/consumer and access and service provider equipment. Cavium Networks processors are supported by ecosystem partners that provide operating systems, tool support, reference designs and other services. Cavium Networks principal offices are in Mountain View, CA with design team locations in California, Massachusetts and India. For more information, please visit: www.caviumnetworks.com.
---
Copyright © 2009 California Newswire(TM). A unit of Neotrope® - all rights reserved. For Licensing Information, contact legal@californianewswire.com
Part of the NEOTROPE®.News Network. SPHERE: Related Content — CLICK HERE to See What Else is Out There!

---
About The Author / Editor: