SUNNYVALE, Calif. /California Newswire/ — Recent surveys and reports show a picture of the home remodeling industry that is a mixed bag of good news and bad according to home remodeling website RemodelorMove.com. The bad news, the most recent RemodelorMove Remodeling Permit Activity Report shows a 20 percent decline in the number of remodeling permits issued during the first quarter of 2009, compared to the same quarter in 2008. The survey of 5,000 homeowners considering remodeling is conducted semi-annually.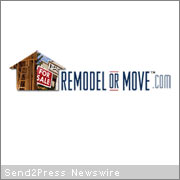 The first bright spot for the home remodeling industry comes from the first quarter 2009 report, which shows an increase of 5 percent in the number of homeowners who stated they will probably remodel in the next 12 months. This is the first increase reported in this benchmark measure of future remodeling plans since 2007, when more than 90 percent of the homeowners who were thinking about remodeling reported they would probably remodel in the next 12 months. Since 2007, this measure of homeowner sentiment has fallen steadily, first when home prices leveled off, then when home prices began to decline, and again following the start of the current recession.
The second bright spot for the home remodeling industry is that the cost to remodel is now 20 percent less than it was in 2006, the result of savings from a variety of sources, including the economic stimulus package, reductions in prices for many materials and home products, and lower bids from contractors as they compete to keep their work crews busy. Details on these savings opportunities are available at www.remodelormove.com.
Other findings from the First Quarter 2009 Remodeling Sentiment Report include:
* 82 percent of respondents said the cost to remodel is their biggest concern;
* 12 percent of respondents planned to use economical materials when they remodel, while 12 percent plan to use expensive materials, and the remaining 76 percent will use standard-priced materials;
* 89 percent of respondents are changing their remodeling plans because of the current economic recession.
RemodelorMove is the online resource for homeowners making the decision about whether it is best to remodel their current homes or to move.
---
Copyright © 2009 California Newswire(TM). A unit of Neotrope® - all rights reserved. For Licensing Information, contact legal@californianewswire.com
Part of the NEOTROPE®.News Network. SPHERE: Related Content — CLICK HERE to See What Else is Out There!

---
About The Author / Editor: