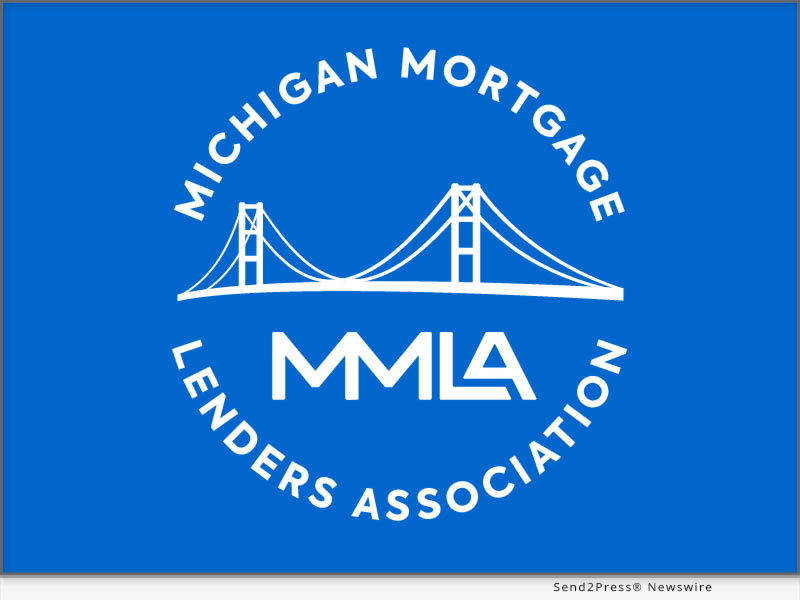 SHELBY TOWNSHIP, Mich., Jan 12, 2023 (SEND2PRESS NEWSWIRE) -- The Michigan Mortgage Lenders Association (MMLA), the only Michigan-based association dedicated solely to the housing finance industry, unveiled an updated logo and brand identity for 2023. The brand refresh aligns with the organization's new purpose and direction as the connection point, legislative voice and educational resource for Michigan's real estate finance economy.

In 2022, the MMLA added 270 individual members, 16 corporate partner companies and three chapter partners to its membership rolls. To support its mission and members, the organization:

* Hosted 45 events around the state, including in-person breakfasts, luncheons, seminars and social events;

* Offered numerous free webinars on educational topics and current issues;

* Expanded its board of directors; and

* Launched an in-depth course for its young professionals and future leaders to learn all aspects of the mortgage industry.

On the legislative front, the MMLA continued to ensure Michigan mortgage professionals' concerns were heard within the state legislature through its non-partisan political action committee MORBANPAC and its long-standing relationship with Karoub Associates, Michigan's longest-serving multi-client lobbying firm.

"Since its inception, the MMLA has connected the best of the Michigan mortgage industry and provided its members with resources to help them stay up to date on industry trends and events on both the state and national level. In doing so, the MMLA is constantly reviewing and evaluating its brand and mission to ensure we are serving our members to the absolute best of our ability," said MMLA CEO Joanne Misuraca. "Our new logo and brand are a reflection of our promise to serve as the hub for Michigan's real estate finance economy, connecting industry professionals with peers and partners to encourage growth and drive consumer confidence."

"The MMLA is a member run organization. Having a diverse and robust membership better serves our entire industry, and as an organization, we want to continue bringing together mortgage professionals from different service models such as independent mortgage bankers, mortgage brokers, community bankers, and credit unions, to ensure every voice is heard and represented," said Julie Conley, MMLA's 2023 State Board President. "With the addition of a Membership Manager, our goal for this upcoming year is to engage with all Michigan mortgage professionals and affiliates to get them involved in the MMLA."

The MMLA is the exclusive trade group representing the interests of Michigan's mortgage industry and delivering opportunities for mortgage professionals to expand their industry expertise, share best practices and advocate for Michigan's housing community. To learn more or to become a member, visit www.mmla.net.

About The Michigan Mortgage Lenders Association:

Since its inception in 1929, the Michigan Mortgage Lenders Association (MMLA) has advocated for its members by providing the resources, legislative voice and education needed to effectively support Michigan's larger real estate community. Highly regarded as one of the best run mortgage associations in the country, it's mission is to:

* Connect Michigan mortgage professionals and deliver the necessary support for them to excel personally and professionally;

* Forge internal and external connections with local mortgage professionals for the betterment of Michigan's real estate community; and

* Support the advancement of Michigan mortgage professionals and the local real estate community at large.

To learn more or to become a member, visit https://mmla.net/.

News Source: Michigan Mortgage Lenders Association
Related link: https://mmla.net/
This press release was issued on behalf of the news source, who is solely responsible for its accuracy, by Send2Press Newswire. To view the original story, visit: https://www.send2press.com/wire/michigan-mortgage-lenders-association-kicks-off-2023-with-new-logo-branding/