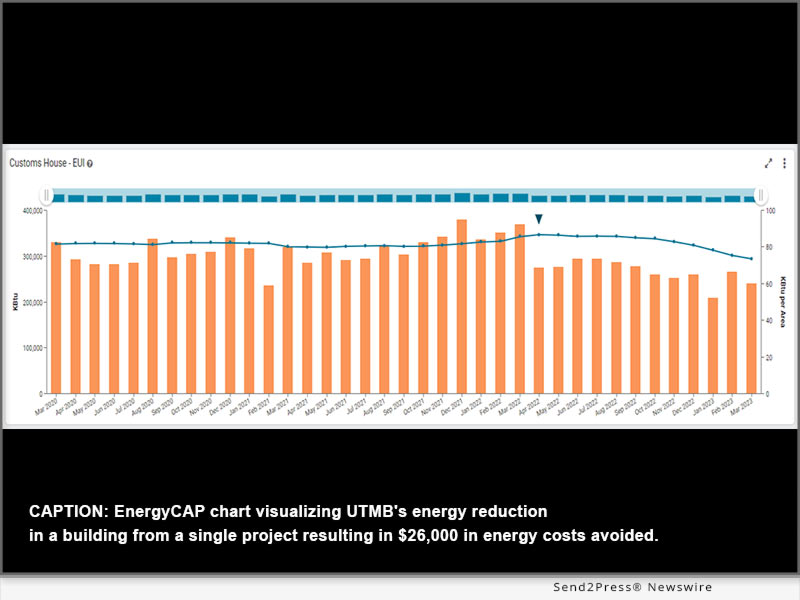 STATE COLLEGE, Pa., Jun 27, 2023 (SEND2PRESS NEWSWIRE) -- EnergyCAP, a renowned provider of energy and sustainability enterprise resource planning (ERP) solutions, proudly announces The University of Texas Medical Branch (UTMB) and The University of New Mexico (UNM) have adopted EnergyCAP's newest solutions: CarbonHub and Wattics, making them the first customers to embrace EnergyCAP's complete solution suite. UTMB, an EnergyCAP customer of 10+ years, and UNM, an EnergyCAP customer of 15 years, are elevating their energy efficiency and sustainability aspirations by embracing Wattics and CarbonHub.

EnergyCAP's Energy & Sustainability ERP Solution Suite:

* EnergyCAP - Portfolio-level energy management and utility bill accounting

* Wattics - Real-time energy analytics at the building and device levels

* CarbonHub - Financial- grade carbon accounting and sustainability reporting

Jason Strauss, President and CEO of Lobo Energy shared that, "Lobo Energy Incorporated is thrilled to support the University of New Mexico's adoption of EnergyCAP's complete suite of solutions. Access to real-time energy and financial-grade carbon data is critical to advancing their decarbonization efforts. This decision underscores the University's dedication and commitment to environmental stewardship."

Since partnering with EnergyCAP in 2008, UNM has been able to avoid costs totaling $139.9 million and decrease their energy consumption by an impressive 22.1%.

Read more about UNM's success with EnergyCAP here - https://www.energycap.com/success-stories/university-of-new-mexico/

Strauss explained that, "Since we have seen the benefits of our streamlined process for data integration with EnergyCAP for our utility data, we wanted to streamline the carbon data process the same way."

By adopting CarbonHub, UNM will be able to accurately track their greenhouse gas emissions and comply with the ever-increasing number of regulations. EnergyCAP's out-of-the-box reports provide data in digestible formats that serve as "a roadmap for a decision matrix for carbon neutrality. [With EnergyCAP] we are allowing the data to help drive the process," says Strauss.

The Energy Management team at UTMB is constantly on the lookout for areas of inefficiencies in energy usage, with the goal of minimizing energy expenses. Quick identification of potential problems is key to achieving this goal. Wattics's offers an unparalleled solution for monitoring and predicting energy consumption in real time.

"We are currently using a large spreadsheet to track our energy savings initiatives and calculate associated savings. Wattics will allow us to calculate the savings with a click of the button using the Operations Analyzer tool. This will save our engineers time that they can then reinvest into finding more energy savings opportunities," says Sean Finegan, Business Operations Manager at The University of Texas Medical Branch.

By using EnergyCAP, UTMB was promptly able to identify anomalies in energy consumption for a specific building on their campus. With a few adjustments to lines of code, instantaneous electric savings were achieved, leading to a quick win of $26,000 in cost avoidance. The precise implementation month and subsequent reduction in energy consumption are clearly visible in EnergyCAP's reporting visuals shown below. Thanks to their prior success with EnergyCAP, UTMB has been able to expand their investments into complementary solutions.

"The adoption of CarbonHub and Wattics will bolster our ongoing efforts in enhancing energy efficiency within our buildings," states Finegan. "Building upon the great progress we have achieved with EnergyCAP, these new solutions will further accelerate our sustainability journey. We recognize the importance of continuous improvement, and by adopting the full suite of EnergyCAP's Energy and Sustainability ERP solutions, we are poised to achieve even greater strides in reducing our environmental footprint."

EnergyCAP remains committed to empowering organizations like UTMB and UNM with advanced solutions that drive efficiency, cost savings, and sustainability excellence. Through its suite of comprehensive solutions, EnergyCAP continues to be a trusted partner in transforming the way organizations manage and optimize their energy resources.

About EnergyCAP:

EnergyCAP is a leading provider of energy and sustainability enterprise resource planning (ERP) solutions. With a proven track record of delivering exceptional value and results for over forty years, EnergyCAP helps thousands of public and private organizations optimize energy consumption, reduce costs, and enhance sustainability efforts. By providing robust data collection, analysis, and reporting capabilities, EnergyCAP empowers organizations to make informed decisions and achieve their energy management and sustainability goals.

Visit https://www.energycap.com/ to learn more.

News Source: EnergyCAP Inc
Related link: https://www.energycap.com/
This press release was issued on behalf of the news source, who is solely responsible for its accuracy, by Send2Press Newswire. To view the original story, visit: https://www.send2press.com/wire/sustainable-organizations-embrace-energycaps-complete-suite-of-energy-and-sustainability-erp-solutions/